Johanne Desforges Jazz Official Website
Today

Jazz Singer Pianist based in Montreal

Johanne Desforges performs as a solo act in piano bars, restaurants and coprorate events. She also performs with bass as a duo formula and trio or quartet combination. With a style all her own, interpreting the best of jazz standards and top popular classics she injects her original material. With great musicians such as Ron Seguin on bass, Michel Berthiaume on Drums and Eric Harding at the piano her performance are versatile, warm and entertaining.
Performing
Restaurant Le Robin Des Bois
4653 Rue St-Laurent Montreal
Avril 25th 2018 7pm
June 27th 2018 7pm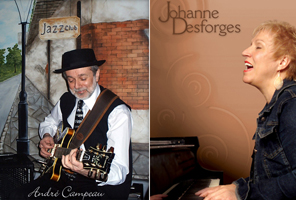 Jazz Singer Pianist based in Montreal Quebec with a passion for teaching, Johanne Desforges has been dishing it out since the 70s. On stage with a trio or by herself at the piano or duo with bass, she performs the best of classic jazz standards, original music and contemporary songs with style and a personnal twist !
Biography

Today
Performing and teaching voice in private since 1976 and at Vanier College in Montreal since 2002.

Mtl Jazz Festival
Performed at the Montreal International Jazz Festival 10 times between 1981 and 2007.

In The Studio
Released 4 CDs between 2001 and 2008 / 5 singles during the 70s and 80s.

Teaching
Has created a website for singers about vocal technic Voice in Movement

Midi Studio
Conducted an 18 woman choir for 8 years in the late 90s producing 3 albums in her studio.

Early Career
On the road in the US for 5 years during the early 70s, then in France 2 years and Quebec since then.
Videos
These Video Clips, recorded during October 2016 where created to give a preview of the Duo and Solo style offered for concert or Corporate Events. Contact us by phone or email for booking information. It will be our pleasure to get back to you asap. Download the Song List PDF with this link
I've Got The World on a String
Harold Arlen
Ron Seguin on Bass
What's New
Bob Haggart / Johnny Burke
Ron Seguin on Bass
Edith and the Kingpin
Joni Mitchel's Great song. This version recorded by Herbie Hancock
Ron Seguin on Bass
And I love Her (Him)
Beatles
Solo Piano and Voice
Ain't No Sunshine
Bill Withers
Recorded October 2016.
A great classic
Ce n'est que de l'eau
Carlos Jobim / Pierre Barouh
Recorded October 2016
Music
Outstanding musicians and wonderful people where involved in producing these 4 CDs. Many Original songs have made it onto the projects recorded between 2001 and 2007 and it is much appreciated.
Thank you to all involved !
White Lights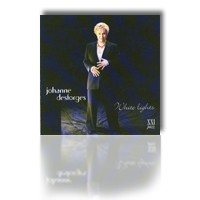 Recorded in 2001
Andre White Piano, Brian Hurley on Bass and Jon McCaslin Drums
Excerpts
White Lights (J. Desforges)
Lazy Afternoon ()
Honey Suckle Rose (Full Version) Fats Waller
Quiet Times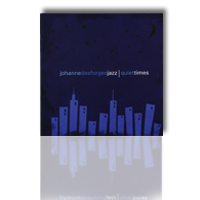 Recorded in 2005
Jeff Johnston Piano, Dave Watts Bass and Jon McCaslin Drums
Exerpts
Quiet Times (J. Desforges)
Get Out Of Town
Communication Breakdown (J.Desforges)
XMAS Johanne Desforges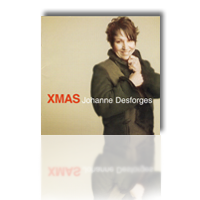 Recorded in 2004
with Josh Rager Piano, Daniel Lessard Bass.
Excerpts
Depuis Hier (J. Desforges)
Have Yourself A Merry Chrismass
Mon Beau Sapin
Live with her Trio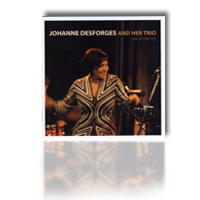 Recorded in 2007
with Eric Harding, Fraser Hollins and Claude Lavergne
Excerpts
Astrology (J.Desforges)
Quiet Times Live version (Arr: Jeff Johnson)
Pennier From Heaven

Contact
Based in Montreal Quebec. For information on our availabilities for concerts or to perform at your event, please call or email and it will be our pleasure to get back to you as soon as possible.
Thank you and have a great day !